Welcome to our website!
Our research is based in the field of medicinal chemistry including drug design, organic synthesis, peptide/protein biochemistry and biophysics, and nanotechnology. Current projects are focused on discovering novel small molecule drugs for the treatment of Alzheimer's disease, and developing nanoparticles as anti-viral drugs and colonic drug delivery systems.
We are located within the School of Pharmacy at the Pharmacy Australia Centre of Excellence (PACE) on the PA Hospital site of The University of Queensland (UQ) in Brisbane, Australia. PACE is a state-of-the-art facility just a short trip from the UQ St Lucia campus via the Eleanor Schonell Bridge.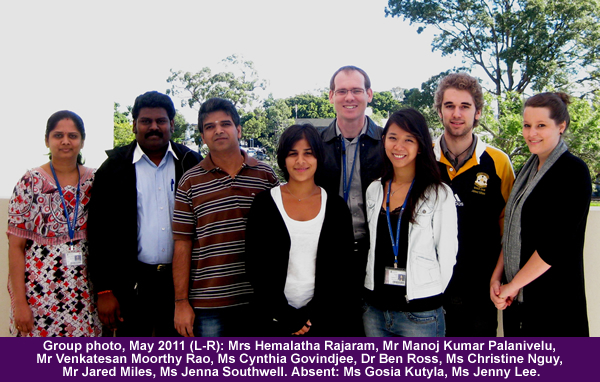 Latest News
14 September 2011, Visiting Scholars: Welcome to Ms Joanne Alexandra and Mr Tham Wai Kin who are pharmaceutical science students from Temasek Polytechnic in Singapore. Joanne and Wai Kin will complete research internships within the Ross Group.
26 May 2011, University Medal: Ms Kara Marcano was awarded a 2010 University Medal for outstanding academic results throughout the BPharm(Hons) program. Kara completed an honours research project in medicinal chemistry within the group. Congratulations Kara.
14 February 2011, Visiting Scholars: Welcome to Ms Christine Nguy and Ms Cynthia Govindjee who are pharmacy students from Paris Descartes University (University of Paris V) in France. Christine and Cynthia will complete research internships within the Ross Group.
20 December 2010, Merit Certificate: PhD candidate Venkatesan Moorthy Rao (Venky) attended the 62nd Indian Pharmaceutical Congress held in Manipal, India from 17-19 December 2010. The Congress attracted over 9000 delegates with 2800 papers selected for presentation. Venky's oral presentation: "Effect of extrinsic elements on the fibrillisation of amyloid beta protein Abeta(1-28)" was awarded one of only 14 merit certificates for best papers. Congratulations Venky.